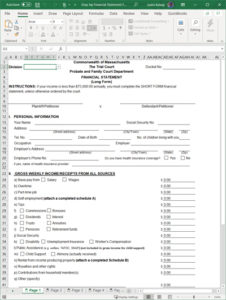 The Financial Statement Long Form and Short Form Excel spreadsheet templates are provided as a resource for professionals and divorcing couples, intended to be more customizable than the pdf versions provided by the court. No form can fit every situation and you are encouraged to add endnotes or explanatory pages, if necessary, to cover your situation.
The Long Form is for individuals with annual income or $75,000 or more (before taxes). If you earn less than $75,000, fill out the Short Form instead.
The individual downloads below are intended for one-time use.  If you are a professional who plans to use our forms for multiple cases you may want to consider our monthly subscription where you will have access to all updates as we make them.
If you already have a subscription you can download the individual forms by clicking here: Download Short Form or Download Long Form
In using these forms, you are accepting our Terms & Conditions contained here.  If you do not accept these terms and conditions, then do not use these forms.